Supporting science and technology since 1952
John Wyzenbeek and Morris Garlick form John Morris Scientific partnership
1952
Opening of Melbourne Office
1965
1969
Opening of Brisbaine Office
Norbert Wyzenbeek, Starts work at John Morris Scentific
1971
1975
Opening of Adelaide Office
Granted distribution rights for GilsonOpening of Perth Office
1976
Opening of New Zealand office
1984
1986
Norbert Wyzenbeek appointed Chairman of the Board
John Morris Scientific attains ISO 9000 certification
1993
1994
Andre Wyzenbeek joins the company
Karl Wyzenbeek joins the companyp
2005
2009
Jeff Tyson joins the company
John Morris Group invests in Lab Friend
2014
2020
Opening of Sri Lanka office
John Wyzenbeek and Morris Garlick form John Morris Scientific partnership
Opening of Melbourne Office
Opening of Brisbaine Office
Norbert Wyzenbeek, Starts work at John Morris Scentific
Opening of Adelaide Office
Granted distribution rights for GilsonOpening of Perth Office
Opening of New Zealand office
Norbert Wyzenbeek appointed Chairman of the Board
John Morris Scientific attains ISO 9000 certification
Andre Wyzenbeek joins the company
Karl Wyzenbeek joins the companyp
Jeff Tyson joins the company
John Morris Group invests in Lab Friend
Opening of Sri Lanka office
Who We Are
Since the 19th Century the Wyzenbeek family has operated a successful scientific and medical supply company. The company was originally established in Holland, however during the period 1940 to 1944 the company remained closed. A decision was taken in 1948 for the family to emigrate to Australia. The Dutch business was sold and in November 1950 the family arrived in Sydney with the purpose of re-establishing the company.

In 1952, John Morris Scientific Pty Ltd was founded as a partnership between John Wyzenbeek and Morris Garlick. In 1954 the company was purchased by the Wyzenbeek family.
Nobert Wyzenbeek, (John's son) joined the organisation in 1971 and holds the role as Chairman to this day. Norbert's sons Andre (joined 1994) and Karl (joined 2005) are company directors and actively involved in the day-to-day operations of the company.

For over 70 years & three generations the company has remained privately owned and prospered.
Philosophy
Our philosophy is to grow within the restraints of our resources and to this end, we have been eminently successful in providing a stable growth platform for our partners and team.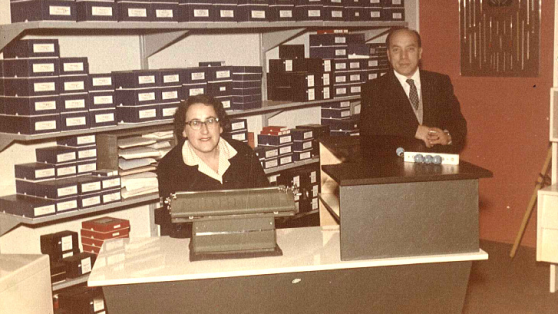 Picture - John Wyzenbeek and Hetty Wyzenbeek
Exceptional Customer Service and Quality
The original 1952 company latin motto was 'Nil Nissi Optimum'. This translates to 'Nothing but the best!'. 70 years later and we still believe in only selling the best quality products, giving the best customer service, supported by a trained team working from the best facilities.
We are principled.
We believe in an inclusive and kind work environment that we have worked hard to develop over the life of our business.
100% Australian Owned & Independant.
We are proud to be to a family owned and operated Australian business. When you work for John Morris, you are an extension of our family.
Why choose us?
Factory Trained Product Specialists

ISO 9001 Certified

NATA Certified

National Office Network

Nationwide technical service network

Highest Quality Products from Respected brands

Australian & New Zealand Compliance

Genuine Local Product Warranty
2000+
Organisations work with John Morris
Australia
Sydney - Head Office
61-63 Victoria Avenue Chatswood, NSW 2067
1300 501 555
Melbourne
Ground Floor, 93 Whitehorse Road, Deepdene, VIC 3103
Brisbane
Unit 7, 53 Metroplex Av Murarrie, QLD 4172
Adelaide
Local sales manager
Perth
5/4 Brodie-Hall Drive, Bentley, Western Australia, 6102
Cairns
Local sales manager
New Zealand
Auckland
18 St Benedicts Street, Eden Terrace, Auckland, New Zealand, 1010
0800 651 700
Wellington
Local sales manager
Dunedin
Local sales manager
Sri Lanka
Colombo
Level 12, Tower 1, Orion City, Colombo 09, Sri Lanka
Trusted by leading organisations